Because everyone on Letsrun.com is an idiot.
__________
Here are results from the finals:
  1 Bernard Lagat                Nike                   3:40.37
2 Leonel Manzano               Nike                   3:40.90
3 Lopez Lomong                 Nike                   3:41.00
4 William Leer                 Oregon TC Elite        3:41.54
5 Alan Webb                    Nike                   3:41.62
6 Jon Rankin                   Nike                   3:41.75
7 Said Ahmed                   Nike                   3:42.20
8 Andrew McClary               Arkansas               3:42.40
9 Rob Myers                    Reebok                 3:42.62
10 Christopher Lukezic          Reebok                 3:43.26
11 Steve Sherer                 unattached             3:43.41
12 Gabriel Jennings             Saucony                3:47.92
We're sending the first three.
Holy shit -
Alan Webb
didn't make the team!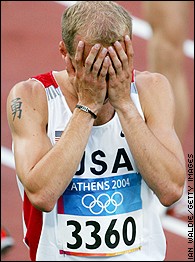 Let's be honest, are you surprised? You didn't want it to happen but you saw it coming. Whether or not
Webb
would make it was such a big question only because he's so inconsistent. Some say he can't run big races, in
Europe
or
World Championships
. Not true. Lets look at 2007:
USA Outdoor 1,500m champion (3:34.82MR)

8th at World Outdoors (3:35.69)

USA Indoor Mile champ (4:01.07)

1st in mile at Brasschaa (3:46.91AR, WL)

1st in 1,500m at Paris (3:30.54PR, WL)

1st in 800m at Heusden-Zolder (1:43.84PR)

1st in 800m at Malmo (1:45.80)

1st at Reebok Boston Indoor Games (3:55.18, Indoor PR)

1st at New Balance Indoor Games (3:56.70)

1st in mile at Drake Relays (3:51.71)

1st in mile at Reebox Grand Prix (3:52.94)

9th in 2-mile at Nike Prefontaine Classic (8:23.97PR)

Ranked #8 in U.S. at 800m

Ranked #6 in world, #2 U.S. at 1,500m/mile by T&FN

Bests of 1:43.84, 3:30.54, 3:46.91

Holy shit. But now let's look at 2008:

5th at Olympic Trials (3:41.62)

7th at Nike Prefontaine Classic (3:55.47)

DNF at Carlsbad 5,000m

16th at USATF 8k Champs

What? Meltdown.
Don't get me wrong, I like
Webb
. I was in high school and just starting to run when he broke 4:00 in the mile for the first time and he inspired me (though my breaking 5:00 in the mile that spring garnered considerably less media attention). I think he's one of the most talented milers in the world. It hurts to go back and read articles about how last
Olympics
were just a
warmup
to
Beijing
glory. Personally, I hinged my
hopes for him on his win at the
2004 trials
in the 1,500m where he put in a HUGE field-crushing move from 600m to go. One of the top 5 track races I've watched. Sadly, he was not to repeat that performance.
Watching him run it seems that the years haven't made him any the wiser. At one point he was at the back of the pack. This is a guy who I'm sure was training for the
finals
of the
Olympics
and who has the
AR
in the mile. This isn't the 10k - you get to the front half of the race in the first 30m and stay there. That's why he had to run in lane 3 in the 2nd half of the race. Did you see all that
pushing
? Protect your space and get where you need to be - that's how you run an international caliber 1,500m.
Still I feel for the guy. Runners of his caliber live their lives in 2 year chunks.
World Championships
,
Olympics
. Not making it out the trials stings. A lot. I still love you Webb.
OK, let's talk about
Gabe Jennings
. The creepy looking dude who lead most of the first half of the race. Most people love or hate him but I have to confess I'm somewhere in the middle. I like that he's counter-culture and out-spoken but I find him a touch pretentious and predictably attracted to extremism. Actually, I think he's a less interesting version of the
Anthony Famiglietti
but more on that when I cover the
steeplechase
results.
Jennings
went out HARD, looked like he was running hard by 600m and comparatively jogged across the line in last place. But hey, he didn't have the
A standard
(3:39.00) and he chased it. No one else wanted to work it early and he stepped up BIG in the first half of the race. Lets face it, at the trials you either make the team or you don't. Forth through last place all stay home. At the end of the day you have to be happy with your effort and he put it all out there.
Leonel Manzano
is hands down my favorite new runner. His win at
NCAA
's in the 1,500m was one of the top 5 track races I've ever watched. He lead from the gun and then blew the field away in the last 100m. But watching this race I have to say I like the way he races even when he's not dominating the field. He gets on the front (
Webb
) but measures his effort and doesn't start what he can't finish (
Jennings
).
It was nice to see
Rob Myers
formerly of
Ohio State
representing the
BigTen
conference. He's another runner I like, runs consistently and places well at big American races.



Lopez Lomong
does not like it when people run in front of him and muscled his way to the front a few times. To be perfectly honest I have no idea who Lopez Lomong is. I'm sure he's probably been hot on the scene for a while but I've fallen out of the loop since
mensracing.com
decided to only post interviews and not T&F news (hence I hardly check it at all anymore). Don't even get me started on how
letsrun.com
looks like it was designed by the
craigslist
team with an hangover. What the hell is
CSS
?
This cartoon pretty much summarize how I feel about the people who write on the
letsrun.com
message boards:
Lastly, let's talk about
Lagat
. Clearly the strongest runner on the American side in both the 1,500m and 5k (he won both). At the
Olympics
he's going to have to run 6 races to get both
medals
. That's a lot. In 2004 when
Hicham el Guerrouj
won it was the first time in 30+ years both the 5k and 1,500m gold went to one person . But
Lagat
is one of the few people who can claim to have beaten the (retired) king of the mile. Heir apparent? It'll be fun to watch!